1xBet Crash Game – Complete Guide
If you are familiar with 1xBet, you will know that they offer several exclusive games. And amongst these exclusive games is the popular Crash Game. It is a type of lottery that is accessible to as many as are interested, and they can play it directly from the bookie's website.
At the same time, it has come to our attention that not many are familiar with how this game works. And when they play it without the necessary knowledge, they lose real money and tag it as a scam. We are here to correct this notion, so read on and learn about the game and how you can excel in it.
What Are Crash Games?
Crash Games are simple games that work with a graph that reflects ever-changing odds. Once the game starts, the marker on the graph could rise and fall at will, however, at some point, it will finally crash. So, the goal of the game is to cash out before the crash occurs. If you don't, it counts as a loss.
Although we gave a simple analogy, these games are more interesting than you think. Usually, providers design the rising on the graph as an airplane or car on the move. They also feature fascinating themes that make the game visually appealing to players. But amidst the fanciness, remember that the goal is to cash out before the crash!
Design and Interface

1xBet crash game design centers around a sports plane rising in the night sky. Although the sky is dark blue, you cannot miss the plane because it has a very beautiful bright orange color—retro style. 
The game is 2D, so the designers were able to focus on smooth transitions in the animations. Even though it is not a three-dimensional game, you can still see the fan and wings of the plane moving realistically as it glides through the night sky.
As for the general interface, the interactive buttons are also easily accessible, so you won't have any trouble with opening or closing your bets. And as you play, the multiplier is very visible on the screen.
How to Play

When you navigate to the crash game section of the 1xBet website, the first thing you will notice is a timer countdown. This timer counts 10 seconds on the bottom right of the screen to signify the start of a new game.
This 10 seconds window is the time allocated for players to place their bets; once it is over, the plane will start rising from the left corner. At the same time, a multiplier will start increasing on the right corner
If you cash out in time, the bookmaker multiplies your stake amount by the multiplier to give your win amount. But if you are not able to cash out before the plan explodes from the sky, the multiplier won't matter because that is a loss.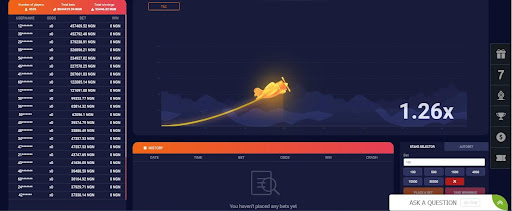 Each game doesn't have a set time but usually lasts for seconds. And no one really knows the exact time the plane will explode from the sky because it is determined by a Random Number Generator (RNG).
How To Bet

Now that we have walked you through the basics of playing the game, here is a step-by-step guide on how to bet on it:
Register on the 1xBet Ghana website: Before you can bet on Crash, you need to have a 1xBet account so the first step is registering. It is not a long process; you only need to supply the requested information.
Locate 'Crash Game' in the '1xGames' section: After logging into your account, locate '1xGames' on the top panel of the page and hover on it. On the drop-down menu, click on 'Crash.'
Click 'Stake Selector': Immediately the Crash interface loads, go to the 'Stake Selector' panel on the bottom right corner of the page.
Specify bet amount and click 'Place a Bet': Specify your bet amount and click 'Place a bet' and you have successfully placed your wager.
End bet with 'Take Winnings': When you are satisfied, click 'Take Winnings' in the stake selector section to place your bet.
If the plane explodes before you click the 'Take Winnings' button, it counts as a loss. But if you click it in time, 1xBet multiplies your stake by the multiplier at the time you clicked the button.
What is the Autoplay Option?
Is the game too fast for you? If your answer is yes, you can choose to automate everything with autoplay. All you need to do is specify certain selections and 1xBet will close the bet for you at the right time.
To enable autoplay, click on the 'Autobet' panel beside the 'Stake Selector.' On the new pane, you will find three fields which are Base Bet, Minimum Stake Amount, and Auto Cashout.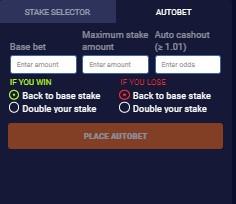 To use autoplay, input the amount you will like to stake in the base bet field. And the auto cashout is to set what multiplier limit the bookie should automatically take your winnings. As for the 'Maximum Stake Amount' field, you will need it for double stakes; we will explain it in the next section.
After setting your preferred parameters, click on 'Place Autobet' and the only thing you need to do is watch. Once it reaches your set multiplier, the autoplay feature will cashout your winnings for you. But if the plane explodes before it reaches your multiplier limit, it is a loss.
What Is Double Stake?
As we stated earlier, the 'Minimum Stake Amount' field in the stake selector is for making double stakes. So, what is a double stake, and how does it work?
As the name implies, double stake is to double your bet amount, but it works in two ways. One is to double your stake for each win, but after each loss, return to base bet.
The other way is to double your stake after any loss, but return to base bet after each win.
Both ways work, and they both offer ways to scale your bets with respect to your wins or losses. However, the latter is more aggressive than the former, so only use it if it suits your personality.
Features of Crash Games in 1xBet
Crash Games may be simple and old-school, but 1xBet has done its best to modernize it for players. And it is evident in the number of features they packed into it. Below is a summary of the features that everyone gets to enjoy in the game:
Autobet
Double Stake
Progressive Jackpots
Adjustable bet limits
Lotteries
Unlimited play time
The main reason why players love 1xBet Crash Game is that each round doesn't last for long. So, the chances of you getting tired of it are slim. In short, you can place your stakes in very quick successions and also receive your wins immediately.
Bonuses

Of course, 1xBet crash game players are not excluded from the bonuses and promotions that are available on the site.
As a new player from Somalia, you are entitled to a welcome bonus when you sign up on the website. 1xbet offers a 200% deposit bonus up to 715 GHS for new players, and you can use it to play Crash. 
As for the other bonuses, they are time-restricted and would expire soon, so we won't list them. But you can always click on the promo page to access all the available bonuses.
What is a Progressive Jackpot?
To spice things up, 1xBet integrated progressive jackpots into their crash game. Any lucky player can hit this jackpot, and when they do, they receive very huge payouts.
These jackpots are split into four – hourly, daily, weekly, and monthly. Starting from the hourly, you can win thousands, but as you progress, the reward increases. If you are lucky to hit the monthly jackpot, you win prizes and rewards in millions.
However, due to how generous the jackpot is, it is not cheap to come by. In fact, only 30 players can win a jackpot at once. So if you hit one, count yourself lucky with 29 others.
At the same time, the bookmaker stated that there are ways you can push yourself closer to hitting a progressive jackpot. And the most effective way is to play the Crash game more. The more you play, the higher your chances of hitting it big.
How To Play On Mobile
Due to the nature of the game, many think you can only play it on desktop computers or laptops. If you thought the same, it may surprise you to know that you can play from your mobile phone. 
All you need to do is log into the 1xBet website via your mobile browser and head to the 1xGames section. You will find Crash among the options and you can choose to play it at will.
Playing on mobile gives you the luxury of playing anytime, from anywhere. Besides, the developers did a great job of making it as smooth and enjoyable as playing from a desktop computer. The only major difference is that the buttons are smaller, but they are still clickable and responsive.
Strategies and Tips
Although 1xBet Crash Game works with Random Number Generators, there are still ways you can toss things in your favor. If you are interested, we will show you some tested and trusted strategies and tips below.
Aim for x2 multiplier: The lower the multiplier, the higher the chances of cashing out successfully. Although you may not win huge amounts, you will always stay long enough to compound your profit.
Play with only profits: When players win, they make the mistake of continuing with their initial capital. So, when they lose, they lose it all. To avoid that, always protect your capital by playing with only profits when you make tangible wins.
Don't go with the multiplier flow: Many players like to roll with the multiplier and close it only when they feel like it. While that may work a couple of times, you will find yourself on the losing end most times. The best option is to have a set multiplier in mind and close it immediately after it reaches the number.
Leave your mouse on 'Take Winnings': If you are a manual player, speed is necessary. And the only way you can cashout at the right time is if you leave your mouse hovering on the 'Take Winnings' button.
Don't play with unstable internet connections: Crash games generally require strong internet connections so if yours is unstable, don't play until you are sure that it is.
Use Autobet as much as possible: Autobet saves you the stress of having to operate things manually, so make the most of it. Choose your preferred settings, and watch it work in your favor.
Pay no attention to the table of current bets from other players: The table is nothing but a distraction because it does not affect you in any way. So, focus on your game squarely.
Pros and Cons
As good as the 1xBet Crash game may be, it also has its downsides, and we won't hide it from you. Below, you will find an overview of its pros and cons.
Pros
Each round only lasts for seconds
Autoplay options
Progressive Jackpots
Simple, yet very responsive interface
Double stake
Unlimited bets
Cons
No in-game bonus features apart from rare jackpot
The manual mode gameplay puts you under pressure
Conclusion
Without a doubt, 1xBet Crash Game is one of the best exclusive games any bookmaker can ever provide. It offers simplicity, functionality, and more importantly, huge winning potential. Besides, the learning curve is so small that you can go from beginner to expert within minutes. So, in our opinion, this game is worth the try and you won't have any regrets in giving it a shot.
Frequently Asked Questions (FAQs)
Here is a section to tend to some of the most popularly asked questions about the 1xBet crash game.
Can I Have a 100% Win Rate On the Crash Game?
Just like every other gambling game, it is impossible to have a 100% win rate on the Crash Game. However, we listed some tips in the guide that can help you win more.
Can I Know the Exact Time the Plane Will Explode?
When the plane will disappear and explode is determined by Random Number Generators, so you can't know the exact time. So, try to cashout on time!
Is There A Way to Automate the Process Of Cashing Out?
Yes, you can use Autobet to make everything automatic. Simply click on Autobet on the bottom right panel, specify your limits, and the whole process will work automatically.